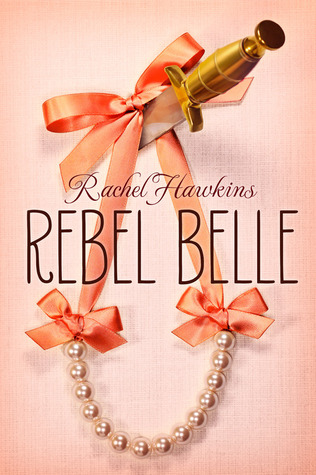 Rebel Belle
Rachel Hawkins
Series: Rebel Belle #1
Published April 8, 2014
Rating: ★★★★
Summary
(taken from Goodreads)
Harper Price, peerless Southern belle, was born ready for a Homecoming tiara. But after a strange run-in at the dance imbues her with incredible abilities, Harper's destiny takes a turn for the seriously weird. She becomes a Paladin, one of an ancient line of guardians with agility, super strength and lethal fighting instincts.
Just when life can't get any more disastrously crazy, Harper finds out who she's charged to protect: David Stark, school reporter, subject of a mysterious prophecy and possibly Harper's least favorite person. But things get complicated when Harper starts falling for him—and discovers that David's own fate could very well be to destroy Earth.
With snappy banter, cotillion dresses, non-stop action and a touch of magic, this new young adult series from bestseller Rachel Hawkins is going to make y'all beg for more.
Links
Goodreads
Amazon
Barnes and Noble
Cover Comments
I love this cover. It's so perfect for a Southern Belle gone rogue. I love everything about it, down to the font used for Hawkin's name. The simplicity is perfect... and it really gives you a feel for the book.
My Review:
If you like Buffy or Veronica Mars, you will probably like this book. Harper has that same spunk that those girls have... and she's wrapped into a pretty southern belle bow. This book was so much fun, mainly because of Harper's commentary on what is happening in her life, as it literally changes course in every way. Sadly, I found David's character to be a bit more stale than he could have been. Actually, I felt like I knew even other minor characters better than him at the end of the book. Hopefully in the second book he'll develop a bit more.
Harper is that girl. Think back to your high school days. That girl that was in every club, well known, smart, and gorgeous. You'd love to hate her... but she is actually nice for the most part on top of it all. She has everything going for her, until an accidental encounter leaves her in charge of protecting a guy she has hated since grade school.
I felt like a lot of time was given to developing Harper's story, but at the same time it got a little boring sometimes. She'd just woken up with superpowers! I wanted to see more of them. There wasn't as much action as you'd expect in the book, but still enough to keep me turning pages.
I felt like this was a quick and easy book. Not too heavy at all... just light and fun read. Things never got so complicated that I was stressed, but it was still enough to keep me interested in what would happen next. Even though it is a paranormal book, it read very much like a contemporary book. Just pure fun!