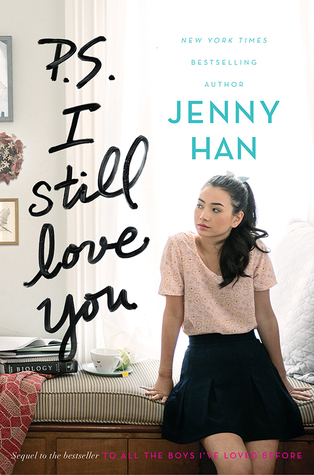 P.S. I Still Love You
Jenny Han
Series: To All the Boys I've Loved Before (#2)
Other Books in this series:
To All The Boys I've Loved Before (#1)
Published: May 26, 2015
My Rating:
★★★★
Summary:
(Taken from Goodreads)
Lara Jean didn't expect to
really
fall for Peter.
She and Peter were just pretending. Except suddenly they weren't. Now Lara Jean is more confused than ever.
When another boy from her past returns to her life, Lara Jean's feelings for him return too. Can a girl be in love with two boys at once?
In this charming and heartfelt sequel to the
New York Times
bestseller
To All the Boys I've Loved Before
, we see first love through the eyes of the unforgettable Lara Jean. Love is never easy, but maybe that's part of what makes it so amazing.
Links
Goodreads - Amazon - Barnes and Noble - Book Depository
Cover Comments
Once again, I love the cover. It's similar to the first cover, adorable, light, and girly girly girly. I love the designs of these books. Don't change it Simon and Schuster!! Just don't. Well, I guess I don't are too much if you do since I already own these covers, but yeah just leave it alone.
My Thoughts
I'm going to start by saying that I did really enjoy this book. It was just as cute, fun, and fast paced as the first book. I read it in a day. I didn't want to put it down. It was adorable. But, I didn't enjoy it as much as I loved the first one. Don't get me wrong. It still was very highly rated, but I just wanted something a little more you know... I don't know what it is, but I felt like just something that made me absolutely adore the first book was missing.
This book starts up right where the first book ended. Lara Jean is feeling hopeful that she might be able to fix things with Peter and they continue to live happily ever after. As the two patch things up, they decide to really give being a couple a go. Yay! But, Lara Jean is still very naive and has a really hard time trusting Peter since he still hangs out with his ex and her nemesis Genevieve. I kind of understand her feelings. Genevieve was a bitch through most of the book. As Lara Jean pulls away from Peter, she reconnects with another middle school 'love' John.
Now, let me back up. I loved the family dynamic about 10,000,000 times more in this book. It was good in the first book, but in this book you really get to see how unbelievably close this family is. Lara Jean will do anything for her family, and her family will do anything for her. Are they perfect? No. Do they fight? Sure. But, they are a picture of what a family should be. Close, loving, and willing to bend the world for each other. I love for once seeing a great family in YA. No tortured family history, they love each other and it's wonderful to see.
Now, I really like Lara Jean and Peter. I don't like the drama they go through, but it's very high school. I remember having a huge arguement with my boyfriend in 10th grade because he met up with a girl that hated my guts at a bowling alley. It was petty and silly, but at the time it was the end of the world for me. High school girls are notoriously insecure. Thank you hormones. Lara Jean is so insecure. Sometimes I was rolling my eyes at her insecurity. I mean, the guy stood up in front of the whole school for you and you don't like that he said hi to someone else. Come on.
I think what I love the most about this couple is that Han doesn't set them up to be this perfect forever couple. She lays them out like a high school couple. Maybe a first love, maybe more. Only time will tell. They aren't perfect, they don't lose the world in each other's eyes, and that is great. It is a realistic high school relationship. It doesn't pretend to be something greater. I think that's why I connect with these books... they truly remind me of what my high school experience was like.
Now, John is more that perfect guy. When he and Lara Jean meet up, it is an instant connection. He has eyes only for her and is willing to do whatever he can to get her. He was a little too perfect, but he's everything Peter isn't. Lara Jean has no doubts to his devotion to her. He makes it clear that he iked her from the beginning. Even in middle school, he had a huge thing for her. He even takes an interest in Lara Jean's hobbies like volunteering at the local nursing home. He is kind and careful to never overstep his boundaries with Lara Jean.
I'm not going to tell you who Lara Jean picks. But, I was happy with her choice. I think Han was true to a normal teenager. I kind of don't think that Lara Jean was worthy of the guy she picked. She put both these boys through the ringer with her insecurities and indecision. However, it says a lot about her pick that he wants to be with her anyways.
Like I said, I still loved this one, but I think maybe it was the fact that Lara Jean was kind of annoying, it just wasn't as special to me. It didn't have the same magic. Does that mean you shouldn't read it? No! Especially if you want some closure to the story. It was a lot of fun, you should definitely still read it. A lot of people preferred this one to the first. I think if you enjoyed the first you'll enjoy the second book as well. So go read it now!