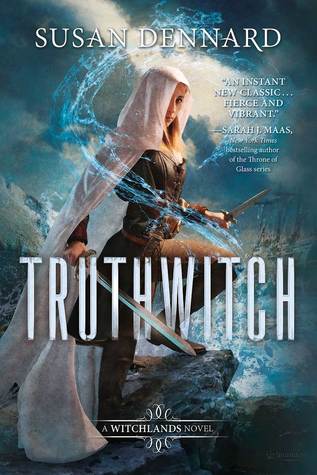 Truthwith
Susan Dennard
Series: The Witchlands (#1)
Published: January 5, 2016
My Rating:
★★★★
Summary:
(Taken from Goodreads)
In a continent on the edge of war, two witches hold its fate in their hands.
Young witches Safiya and Iseult have a habit of finding trouble. After clashing with a powerful Guildmaster and his ruthless Bloodwitch bodyguard, the friends are forced to flee their home.
Safi must avoid capture at all costs as she's a rare Truthwitch, able to discern truth from lies. Many would kill for her magic, so Safi must keep it hidden - lest she be used in the struggle between empires. And Iseult's true powers are hidden even from herself.
In a chance encounter at Court, Safi meets Prince Merik and makes him a reluctant ally. However, his help may not slow down the Bloodwitch now hot on the girls' heels. All Safi and Iseult want is their freedom, but danger lies ahead. With war coming, treaties breaking and a magical contagion sweeping the land, the friends will have to fight emperors and mercenaries alike. For some will stop at nothing to get their hands on a Truthwitch.
Links
Goodreads
Cover Comments
I originally only wanted this book because of the beautiful cover. I mean look at it guys. It's just so pretty and so bada**. Honestly, I'm really loving the awesomeness of Fantasy covers lately. They just keep looking better and better.
My Thoughts
I've had a hard time rating this book. I really really really enjoyed it once I got into it, but it took a long while for me to get into it. The first half, especially, dragged by. I was about to put it down. But, looking back on it, it really built it up to make this a great read. I think that, combined with something else I'll talk about later are the reason's I've settled on 4 instead of 5 stars.
I really loved the world Dennard has created. She has made all of this world where people are witches, and each of them has a different magicalpower from controlling the tides, to small things such as creating magical clothing. Some magical powers are dangerous in that the bearer can be taken advantage of of killed just because of what they can do. I loved the premise of the land, but I didn't feel like Dennard really took the time to fully build and develop the world for me. I want to know more. More about the witches, more about the different people. Just more.
Let's talk about our main girls in this book. Safiya and Iseult are what best friends, or thread sisters. They became thread sisters after Iseult saved Safiya's life when they were just children. Safiya is a truthwitch. She can sense whether a person is being truthful or trying to decieve you at all times. Because this is sucha powerful power, especially in politics, she has hidden her power her entire life for fear of being held capitve or killed. Safiya comes from nobility. Her parents died and left her in the care of her alvoholic uncle, who sent her away to be hidden and trained. There she met Iseult. Iseult was probably my favorite character. She's so quietly strong. Where Safiya is outspoken and makes rash decisions, Iseult is there to balance her perfectly. She is a threadwitch. I'm kind of confused on what this means. She can sees the threads that tie people together. The threads also have colors that tell her about emotions and feelings. Iseult comes from a clan of outcasts. They live on the fringes of society and are not welcomed by other witches. They are essentially gypsies. Iseult's mother sent her away when she wasn't proved powerful enough by her mother's standards to take over someday. These girls are so perfect. They are both willing to do ANYTHING for the other. They know eachother through and through and I just loved the special bond between the two of them.
In the book, Iseult and Safiya stumble into a plan to take down the hierarchy. They are sent away for their own safety with the aid of Prince Merik, who is just focused on saving his own country. They are pursued by Aeduan. A bloodwitch who can track them anywhere given enough time using the scent of their blood. Did I mention I love Aeduan? No? I can't wait to see him develop more in future books. Anyways, when the secret of Safiya's power is revealed, our heros find themselves in an adventure of a lifetime trying to escape capture and secure their freedom. They are chased by other countries, they battle sea monsters, and our girls discover there may be more to their relationship than they originally thought with a deep prophecy at bay.
I do warn you though, there is a pretty horrible cliffhanger. Like I'm dying to know what will happen next and hate that I have to wait a whole year! Not smart me, not smart! It was cruel of Susan Dennard to leave me like that! So sad and cruel because I need to know now!
I don't want to give much more than that. But I will say... keep pushing through the first bit. Once you get there, this book becomes so fast paced. I took 5 days to read it and most of the book was read that last day when I could no longer put it down. I can't wait to read more. I really definitely recommend this book, I get this great feeling that this series will get better and better!