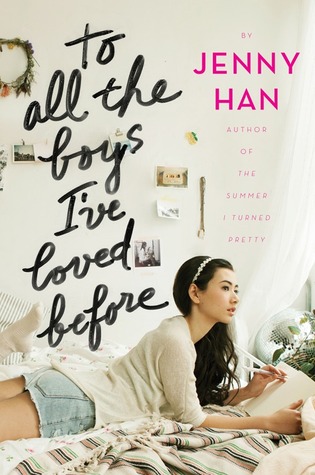 To All the Boys I've Loved Before
Jenny Han
Series: To All the Boys I've Loved Before (#1)
Published: April 15, 2014
Rating:
★★★★★
Summary:
(Taken from Goodreads)
To All the Boys I've Loved Before is the story of Lara Jean, who has never openly admitted her crushes, but instead wrote each boy a letter about how she felt, sealed it, and hid it in a box under her bed. But one day Lara Jean discovers that somehow her secret box of letters has been mailed, causing all her crushes from her past to confront her about the letters: her first kiss, the boy from summer camp, even her sister's ex-boyfriend, Josh. As she learns to deal with her past loves face to face, Lara Jean discovers that something good may come out of these letters after all.
Links
Goodreads - Amazon - Barnes and Noble - Book Depository
Cover Comments:
This cover is so perfect. I love the model they chose to be Lara Jean, and I love love love the bedroom setup they staged her in. It is rarely that I feel a cover really gives you a perfect feel of a book. This one does though. It's dreamy, girly, romantic, and kind of whimsical. Just like our main character Lara Jean.
My Thoughts:
I was kind of begining to think I needed to let go of Contemporary YA. I mean, I still enjoy it when I read them, but gosh darn it I grew up. I don't connect to the characters the way that I used to. I don't put myself in their shoes anymore. However, this book gave me all the old feelings that come with being a teenage girl. Guys, it brought up memories for me. I felt like Han caught how it feels to be a teenage girl so so so perfectly that I was yanked back from my adult mom life and perfectly transported to the state of mind I was in at that point in my life. And, I loved it.
Lara Jean is your typical teenage girl, but has a bit a maturity that comes with losing a parent at a young age. She is very close to her father and sisters. Instead of that typical angst that teenagers have about their parents ruining their lives. I really liked the lack of family angst. I mean, I went to college and realized I don't know as much as my mom... so I tend to roll my eyes when I read about family angst in books. Anyways, Lara Jean is dreading preparing to face her junior year of high school, and the first year without her oldest sister, Margot, whom she emulates and adores. Since her sister is going out of country to college, Lara Jean is feeling the pressure to step up and really take on the mom role for her little sister, Kitty, something she dreads because she knows she can't be as good as her Margot.
Lara Jean is a romantic and a dreamer. You have to understand that. She is a total girly girl with a sensitive streak a mile long. Every guy that she has ever really liked in her life she has written a love letter to. The letters are for her eyes only, and kind of a way to let go of the feelings that have overwhelmed her. Once she writes these letters, she hides them in a hat box under bed and lets go of her love for these guys.
However, a few weeks into the school year, she has the most horrifying discovery. These very heart wrenching love letters have somehow been sent in the mail. Guys, I can imagine that terror. Honestly, it gives me a panicky feeling just thinking about it. It could happen to a lot of girls. A quick note to your best friend about the guy you've been crushing on for a year. It gets out somehow, and well, to a teenage mind your life is over. Obviously, Lara Jean is terrified. She can get past the boys from middle school easily enough. But, what about her best guy friend neighbor who dated her older sister for a year, and has just had his heart broken?! Lara Jean is terrified when he finds out, and does something completely irrational to keep him at a distance. After all, she's pretty sure he still loves Margot and vice versa. Lara Jean, conspires with another boy that she used to love, to pretend to be his girlfriend just until the love letter drama dies down a bit.
Peter, oh Peter... there are things I like about him and things I don't like about him. He's your typical high school jock. Completely off key with Lara Jean who has this good girl in her own little world vibe. But, he does have his softer sides. The way he hangs out with Kitty, and follows along with the ridiculous lists Lara Jean insists on. I adore him. He's not given enough credit in this book. But, I think what I really love is that he's not perfect! He can be arrogant, and obnoxious... just like every teenage boy ever in the history of mankind.
I don't want to give too much more, but I will say it is kind of obvious that this pretend relationship gets out of hand very quickly. Both Lara Jean and Peter find themselves in situations neither really wanted or expected. They have to find out if they can bind well together and find happiness where they least expect it, or if their lives are just too too different.
As I mentioned before, I really loved this book. It is probably the best Contemporary YA I have read in a long time. I went straight from this book, into the sequel and will be getting my review up for that one in the next day or so. I'm trying hard to catch up on my reviews guys I really am! My final rating for this book was 5 stars, and I know I'll be doing a reread of this one in the future, as well as reading everything by Jenny Han that I can get my hands on. I really highly recommend this one to any Contemporary YA fan!