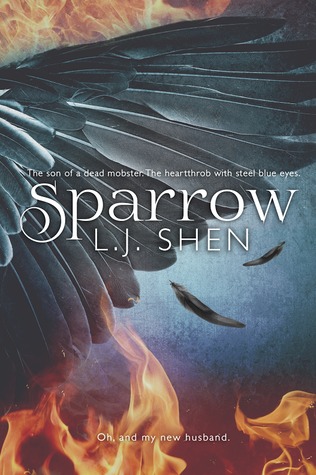 Sparrow
L. J. Shen
Published: March 8, 2016
My Rating:
★
★
★
Summary
:
(Taken from Goodreads)
Troy Brennan
Every Southie in Boston knows that name. The son of a dead mobster. The heart-throb with steel-blue eyes. "The Fixer" who can make or break you in this city.
Oh, and my new husband.
Sparrow Raynes
That's me. No one seemed to remember my name up until he barged into my life.
But then he caged me.
Kidnapped me.
And killed every chance I had to run away from the place where we grew up.
Put simply, Troy Brennan clipped my wings.
I have dreams, big ones, but I doubt he'll ever let me chase them. I have no idea why he decided to take me as his wife. But I do know this: pissing off this man will not do me any good. At all.
Sparrow is a standalone, full-length novel. It contains graphic violence and adult situations some may find offensive.
Cover Comments: The cover is what really drew me into this book. The premise of a kidnapped and forced marriage kept me. I love the Sparrow wing, I love the fire and I really love the way the colors all work together. Really nice.
My Thoughts:
I'm going to start by saying if you are under the age of 18 this is NOT a book for you. It is an adult book and had some, not very happy adult situations.
I knew going into this book, that it was going to take a lot for me to like it. I don't typically pick up erotica. I will pick up a romance... but when I do, I want it to be romantic... and well, this book is not romantic. That's not to say I didn't enjoy it. Once I accepted that this wouldn't be a sunshine and daisies book I found the writing to be really entertaining and very quickly paced. Did I particularly enjoy some of the book. No. Did some of it really make me sick to my stomach. Yes. However, the author gave me enough of something to give it a 3.5 star rating.. so I will admit that I thought it was a good book.
The book follows the point of view of both Sparrow and Troy. Sparrow is an innocent. Sure, she grew up on the wrong side of the tracks. But, she's made a point to stay out of any funny business and instead has focused her energy on her love of cooking. Troy is the opposite. He is tortured and, well, a villian. He's supposed to be the bad guy. The author makes no qualms about it. He is the son of the deceased Mafia boss in Boston. He is bent upon revenge for the death of his father, and feels no remorse for the things he does (and they aren't pretty).
At the beginning of the book, Sparrow is terrified. She is being prepared for her wedding. A wedding she doesn't want, but knows better than to fight. Troy kidnapped her for unknown reasons 10 days ago and is forcing her to become his wife, again for unknown reasons. Sparrow vows to hate this man, but she is too strong to let him see her fear. So, she faces her life changes with strength, wit, and integrity... something Troy never expected from a wife he is none to happy to have been forced to take.
I would say, for the first half of the book the two cannot stand each other... or, Sparrow cannot stand Troy. Troy, meanwhile is fighting the attraction to her because he knows he doesn't deserve her. He spends his days trying to find out who is responsible for the death of his father... while Sparrow slowly falls into a rhythym as his wife. Any progress the 2 made comes to a standstill after Troy makes a few very unfortunate decisions that Sparrow catches him doing. Her anger drives her closer to a man that seems to hate Troy for his own reasons, and is set on revenge himself.
The whole mystery of it all was pretty intriguing. I figured the 'who dun it' out pretty quickly, but I didn't understand the why until the very end. I thought the author did a great job at very slowly leaking out the history of these two and developing their relationship.
One thing I really have to commend the author on, is her ability to really take very evil characters and give them just enough redeemable characteristics to make you like them. She did a great job at really developing that gray spot that many authors struggle to. There is no one character that is all evil, or any one character that is all good. There are characters I'd never want to meet, but they all have something that makes them not 100% evil. Too many times you have the evil character versus the all good hero. I'm so happy to really see that gray area of humans being well, humans, being explored.
I think if you like the darker romances or erotica, you will really enjoy this book. It was really well written. I think the only reason for my rating is that is isn't my style of a book.
If You Like This Book You May Enjoy...