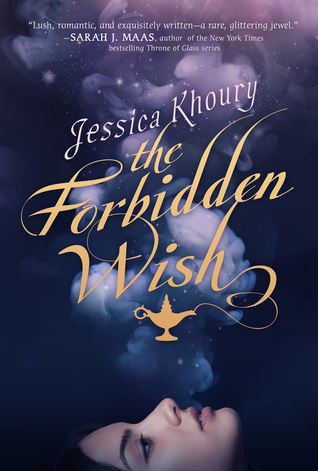 The Forbidden Wish
Jessica Khoury
Published: February 23, 2016
My Rating:
★
★
★
★
★
Summary:
(Taken from Goodreads)
She is the most powerful Jinni of all. He is a boy from the streets. Their love will shake the world...
When Aladdin discovers Zahra's jinni lamp, Zahra is thrust back into a world she hasn't seen in hundreds of years -- a world where magic is forbidden and Zahra's very existence is illegal. She must disguise herself to stay alive, using ancient shape-shifting magic, until her new master has selected his three wishes.
But when the King of the Jinn offers Zahra a chance to be free of her lamp forever, she seizes the opportunity—only to discover she is falling in love with Aladdin. When saving herself means betraying him, Zahra must decide once and for all: is winning her freedom worth losing her heart?
As time unravels and her enemies close in, Zahra finds herself suspended between danger and desire in this dazzling retelling of Aladdin from acclaimed author Jessica Khoury.
Cover Thoughts:
I think this cover is gorgeous. I love it... it is so magical, and dreamy, and you can tell just from the cover that this is about a jinni. Oh and the title spilling out of the lamp?! That's pure genius don't you think? I just love everything about this cover.
My Thoughts:
So, it is only the beginning of March, but I'm going to go on limb and make a guess that this will be one of my favorite reads of 2016. It was just wonderful. It completely drew me in and held me captive. I didn't want it to end, and I want more so much more. It's a standalone and is well wrapped up, but I'm just not ready to let go! So yeah, even if you don't bother to read the ret of this review (it will be a bunch of fangirling) now you know you need to go pick it up right now!
This book is a retelling of the Aladdin story told from his jinni's point of view. But, don't go in expecting the Disney movie. Though it is one of my favorites, (behind Beauty and the Beast) the book has very little that is similar other than a character named Aladdin and the fact that he finds a jinni and decides to become a prince... even that isn't the same as the story.
Anyways, the beginning of the book shows our jinni, Zahra, being found for the first time in 500 years by Aladdin. You are immediately pushed into some exciting action as the magic of the jinni's tries to kill both of them before they can escape. Aladdin is brave, and brash, and naive. But he's so likeable in his imperfections, and he immediately begins to treat Zahra not as a magical being, but as a girl and someone worthy of respect. Zahra has only been treated like this once before and it cost her the life of a human she refers to as sister. As the book unfolds you learn the traumatic story that led to her being left to die in a buried castle.
Soon after Aladdin and Zahra escape, Zahra is given a message from the king of Jinni's. His son is being held captive in the palace, and Zahra is given 1 month to find and free him. If she succeeds she will be granted freedom from her captivity... if she fails he will kill her, and completely bury the city in which Aladdin lives. Obviously, this becomes the focus of Zahra's exsistence. And, she kind of manipulates Aladdin into wishing to be a prince so that she can find and rescue her fellow jinni.
This is where the story got good. There is a plot to take over kingdom, a warrior princess set on saving her kingdom and giving her people a better life, and lots and a prince set on finding and destroying Aladdin while taking Zahra captive. Aladdin is determined to get revenge on the people that killed his parents, and since the princess is betroathed to the son of the man, he decides that as a prince he can swoop in and steal her and the kingdom away.
The thing neither Aladdin nor Zahra expected was for the forbidden to happen. The two slowly and beautifully develop from a general distrust of each other, to a love so terrifying and beautiful. Aladdin especially... just doesn't care. He gives up everything for Zahra... and in the end Zahra gives up everything just to save his life. I don't want to say any more, but it was so beautiful... and I couldn't put it down.
This book was so unique. I loved the world Khoury built. Like I said it was loosely based on Aladdin, but the world she created was so much more complex and beautiful. I want so much more. The end left a mention of another famous characters from those stories and legends and, well, I'm kind of hoping Khoury will build a spinoff of him just so I can see more of this beautiful world. Go read it, now... that is all.
If you like this book, then read..
This is a new thing I'm adding to my reviews. I thought I'd give a couple of recommendations for people that have read this book... or if you've read the recommendations, you probably will enjoy this story as well.