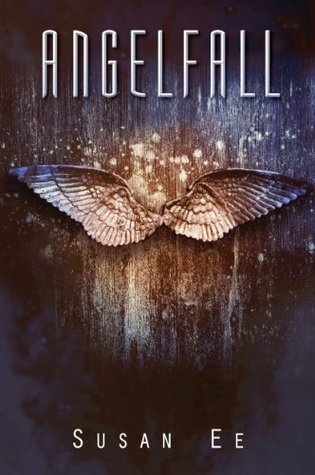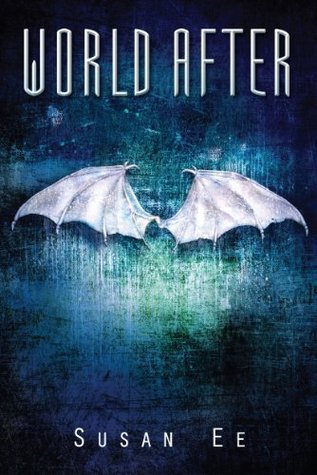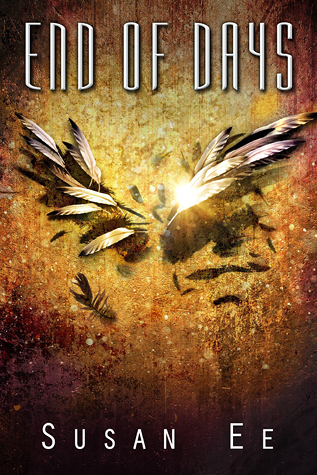 Penryn and the Ends of Days Trilogy
by Susan Ee
Book 1:
Angelfall //
Book 2:
World After
// Book 3:
End of Days
Summary of Angelfall:
It's been six weeks since angels of the apocalypse descended to demolish the modern world. Street gangs rule the day while fear and superstition rule the night. When warrior angels fly away with a helpless little girl, her seventeen-year-old sister Penryn will do anything to get her back.
Anything, including making a deal with an enemy angel.
Raffe is a warrior who lies broken and wingless on the street. After eons of fighting his own battles, he finds himself being rescued from a desperate situation by a half-starved teenage girl.
Traveling through a dark and twisted Northern California, they have only each other to rely on for survival. Together, they journey toward the angels' stronghold in San Francisco where she'll risk everything to rescue her sister and he'll put himself at the mercy of his greatest enemies for the chance to be made whole again.
My Thoughts:
So, last Friday I was in a mood for something new to me. Sure I have almost 300 books on my tbr and I don't even want to know how many unread books on my bookshelf. But, every now and then I feel like picking up a book I've never really paid much attention to. That was what happened with Angelfall. Sure, I had heard of the book before, it has been all over my recommendations for years. But, I never paid it any attention. No reason why, but I hadn't.
Anyways, I picked up book 1 and it completely drew me in. It was fast paced, action packed, really really creepy and had the beginnings of this beautiful romance. It left me needing more. Lucky for me this entire series is on Kindle Unlimited so I was able to immediately move to the second book and since that one was just as crazy as the first one, I went straight into the 3rd. These books are really short. The first is less than 300 pages, and the other two are less than 350 pages. So, if you are looking for a trilogy you can cruz right through over the weekend, this is a great pick.
So, I picked this series up thinking it would be kind of cute, kind of romantic, and kind of fun. It was fun, and it had some romance. The romance is NOT the focus of the story though... and this book was a lot darker than I was expecting. Penryn is a 17 year old girl that is holding her family together after angels have invaded the Earth and begun to take over. It is a scary post apocalyptic world and Penryn is making a desperate attempt to escape with her mother and her little sister before the street gangs that have taken over the towns reach her family's apartment. But, it isn't an easy escape at all. Penryn's sister, Paige is a 7 year old paraplegic and her mother is a paranoid schizophrenic that has been off of her meds foo the past few months making her completely unstable. Anyways, as Penryn and her family make for their escape, they end up in the middle of a angel battle where she witnesses an angel having his wings ripped off by the others. In a desperate attempt to keep her mom and especially her sister safe, she distracts the angels long enough to help our first angel win. However, as retribution, one of the angels captures Penryn's 7 year old sister and flies off with her. This sets up Penryn's desperate search for her little sister.
Penryn is such a strong character, and loyal to the end. She is willing to do anything, and I mean anything to get her little sister back. She is not one of those main heroines that runs from trouble, or lets others handle it for her. In fact, she refuses to let others do much of anything for her, but instead sometimes takes on too much.
Penryn ends up teaming up with Raffe, the angel she witnesses having his wings ripped off. Even though she hates and distrusts him, she knows he is her best chance of finding the other angels and getting her sister back. Raffe just wants his wings back, and is on a quest to find an angel that can sew them back on.
As the two work together they discover some nefarious plans from an archangel that is basically trying to take over the world with some pretty creepy creations. Think mad scientist angels with a God complex. The books get really downright creepy at times, but in a really great way. Oh, and don't think your angels are going to be this wholesome, God-fearing pure beings. These angels are creepy and evil in every way. Humans are nothing but rats to them, something to look down on and dispose of. Not something seen as a threat to the angels, just something to get rid of.
If You've enjoyed this series, you might like...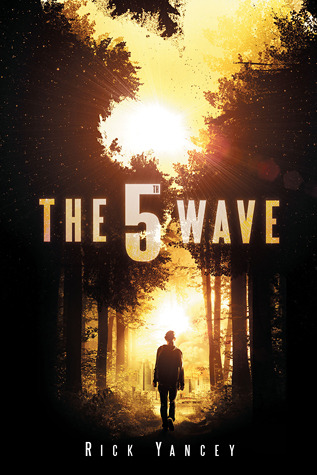 Life as We Knew It
- by Susan Meth Pfeffer
We All Looked Up
- by Tommy Walach
The 5th Wave
- by Rick Yancey