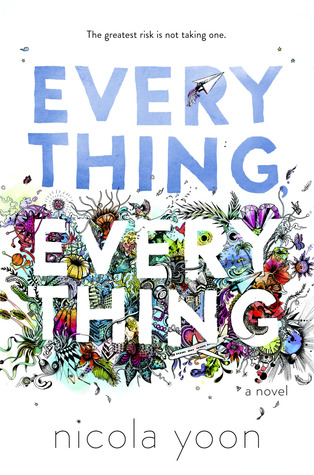 Everything Everything
Nicola Yoon
Published: September 1, 2015
My Rating:
★
★
★
★
Summary:
(Taken from Goodreads)
My disease is as rare as it is famous. Basically, I'm allergic to the world. I don't leave my house, have not left my house in seventeen years. The only people I ever see are my mom and my nurse, Carla.
But then one day, a moving truck arrives next door. I look out my window, and I see him. He's tall, lean and wearing all black—black T-shirt, black jeans, black sneakers, and a black knit cap that covers his hair completely. He catches me looking and stares at me. I stare right back. His name is Olly.
Maybe we can't predict the future, but we can predict some things. For example, I am certainly going to fall in love with Olly. It's almost certainly going to be a disaster.
Links
Goodreads - Amazon - Barnes and Noble
Cover Comments
I love the cover, it's so cute and colorful and I see a lot of representation from the book in it. I actually might have bought this book just so that I could have the cover. I'm weird like that and enjoy having pretty covers on my bookshelf.
My Thoughts
This was a really cute and fast apced book. It was so interesting too. Once I picked it up I didn't want to put it down. Luckily, it's a really quick read. I think I finished it in just a few hours. I think for this review I'm going to keep it simple and make a pro and con list.
Pros:
- Maddy is mixed! I love that I'm seeing more and more minority main characters pop up in normal books. They aren't just on the sidelines anymore, but at the forefront. And, they are just normal people... too many authors fall into stereotypes when they write characters of a minority racial color.
- Olly. Oh my gosh he's adorable and cute and sweet and caring and just the best. I love him.
- The premise. I don't want to go too much into this. But, I love the premise. It reminds me a bit of the movie The Others (even though the actual storyline and plot is not even a little similar). I like the idea of being stuck inside your home all the time... and exploring how that would affect a person.
- Maddy's Book Reviews. They were hilarious. One sentence spoilers.. and so so so true. I was cracking up any time they came up. I wanted to see more of them.
Cons:
- The mystery. I figured it out pretty quickly, but it was still fun watching Maddy figure things out.
- Olly. Yes, he's here too. I wanted more of him... I wanted to delve more into his character. I'd love to see a rewrite from his point of view.
- The ending. It was too abrupt for me. Adorable, yes.... but so abrupt. I wanted to see what would happen after the big ending, and to me it was just rushed.
But guys, seriously. I loved this book. It was adorable. Definitely worth the read if you haven't gotten to it yet. Like go get it and read it. It's quicka nd fun... you won't regret it one bit.