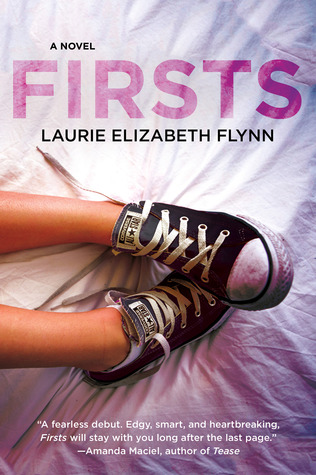 Firsts
Laurie Elizabeth Flynn
Published: January 5, 2016
My Rating:
★
Summary:
(Taken from Goodreads)
Seventeen-year-old Mercedes Ayres has an open-door policy when it comes to her bedroom, but only if the guy fulfills a specific criteria: he has to be a virgin. Mercedes lets the boys get their awkward, fumbling first times over with, and all she asks in return is that they give their girlfriends the perfect first time- the kind Mercedes never had herself.
Keeping what goes on in her bedroom a secret has been easy- so far. Her absentee mother isn't home nearly enough to know about Mercedes' extracurricular activities, and her uber-religious best friend, Angela, won't even say the word "sex" until she gets married. But Mercedes doesn't bank on Angela's boyfriend finding out about her services and wanting a turn- or on Zach, who likes her for who she is instead of what she can do in bed.
When Mercedes' perfect system falls apart, she has to find a way to salvage her reputation and figure out where her heart really belongs in the process. Funny, smart, and true-to-life, FIRSTS is a one-of-a-kind young adult novel about growing up.
Links
Goodreads - Amazon
Cover Thoughts:
Nothing really special about it. I'm not a fan of the choice of converse shoes on the bed, but it is what it is. I don't think it catches my attention or anything, I just kind of saw it...
My Thoughts:
I don't give 1 star ratings often, it had to have been a really bad. Honestly, I didn't even get through the whole book. Around 80% I was just done. I didn't care and put it down.
I don't think I'm hip enough for this book. Cool enough? Youn enough? The summary really caught my attention. I thought it'd be a great read, but it just wasn't, at least not for me. I guess my problem was Mercedes. She wasn't likable. I didn't feel bad for her at all. She was a faker. This girl sought out taken boys then rationalized sleeping with them as helping the girls. I hate that. If you want to have sex with a bunch of guys, be my guest. But, don't purposely go for taken guys. I lose all respect for that. To be honest, I knew this going in. I knew I'd hate Mercedes at the beginning, but I expected the author would redeem her somehow and make me feel sympathy for her. And she didn't. Not one bit. I honestly couldn't find 1 single quality that I did like.
I honestly don't even know what to say. I'm really trying to think of something I liked about the book, but the main character makes me so angry that I have a hard time. I guess I like that the author tried to conquer such a difficult topic in her first book. Slut shaming is still very prominent in todays culture, and it is usually deemed okay by people. So, I think Flynn took a big risk which is awesome. It just wasnt done in a way I could appreciate.
I really hate giving a 1 star to a debut author. Hopefully, she can come back with something awesome in the future. Honestly, I might try her again... I mean I really did like the risk she took, so I want to see he grow in the future. Please? Maybe?