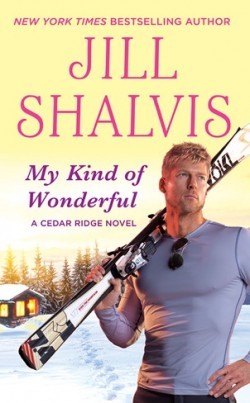 My Kind of Wonderful
Jill Shalvis
Series: Cedar Ridge (#2)
Published: December 22, 2015
My Rating:
★
★
★
★
★
Summary:
(Taken from Goodreads)
UNEXPECTED AND UNDENIABLE...
Bailey Moore has an agenda: skiing in the Rockies, exploring castles in Europe, ballroom dancing in Argentina. Now that she has a second lease on life, she's determined not to miss a thing. What she doesn't realize is that item #1 comes with a six-foot-one ski god hot enough to melt a polar ice cap. She doesn't want to miss out on him either, but Hudson Kincaid isn't the type of guy to love and let go. And as gorgeous as Cedar Ridge is, she's not planning to stick around.
As head of ski patrol at his family's resort, Hud thinks he's seen it all. But never has he run into someone like Bailey. She might look delicate, but her attitude is all firecracker. And her infectious joy touches something deep within him that he's been missing far too long. Now he'll just have to convince Bailey to take a chance on her biggest adventure yet . . . something rare and all kinds of wonderful.
Links
Goodreads - Amazon - Barnes and Noble
Cover Comments
It is just a normal romance cover. Cute guy on the front staring off into the distance, with a pretty landscape behind him. I much prefer the cartoony ski lodge in this version of the cover. Nothing wrong with it, it is just a cliche romance novel cover.
My Thoughts
I love Jill Shalvis. I have loved every single book I've ever read by her, which is pretty much all of them. She is one of my favorite authors. If you are looking for a book with a lot of turmoil and depth to it, look somewhere else. However, if you want a fun, light, romantic read... Jill Shalvis has you covered. This book, like all of her others just left me so happy at the end!
Bailey has just overcome leukemia. She's been dealing with it since she was a young teenager, and her entire life has been hospitals and people taking care of her, for as long as she can remember. Obviously, now that she has the chance, she wants nothing more than to escape and do things for herself for once. I loved her character, she was independent but lovable. Unafraid to take chances and make mistakes. She's fun and caring and really someone I'd want to be friends with. You know, if she weren't fictional.
Hudson is a macho guy, who is used to taking care of everyone around him. His mom, his sibings, and the visitors to the ski resort he runs with his siblings. So, when he meets and falls for our sweet Bailey, he has to learn not to take care of her too, since she is done being taken care of.
I love the setting and the side characters too, Shalvis is great at writing people you really want to know and be friends with. They are likeable, but different in their own ways. There is always some great humor and some super duper sweet parts. I love that her characters all love the outdoors and outdoor activities. True story, I forced my husband to take up hiking with me after reading her Wilder series years ago. Now it is one of our favorite activities I love escaping to the mountains with him!
I don't want to give away much, but just know this is a classic Shalvis book and so completely enjoyable. I'm loving this series and can't wait to read the final book in the series in just a 2.5 short months!!