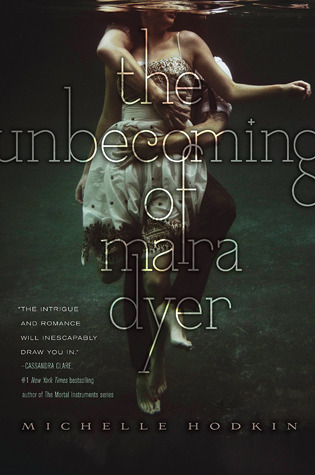 The Unbecoming of Mara Dyer
Michelle Hodkin
Series: Mara Dyer (#1)
Published: September 27, 2011
Rating:
★
★
★
★
★
Summary
(Taken from Goodreads)
Mara Dyer believes life can't get any stranger than waking up in a hospital with no memory of how she got there.
It can.
She believes there must be more to the accident she can't remember that killed her friends and left her strangely unharmed.
There is.
She doesn't believe that after everything she's been through, she can fall in love.
She's wrong.
Links
Goodreads - Amazon - Barnes and Noble
Cover Comments
This is one of my favorite YA book covers out there. The entire series has wonderful covers. THey are equal parts spooky and beautiful! Just like the book!
My Thoughts
My first reread of the year! I'm not going to lie. I read this one a long time ago when it first came out. I rated it 5 stars, then I put the book on my shelf back at m parent's house, and forgot about the series. I just recently bought the other 2 books in the series, and before I read them, I knew I needed to reread the first book. So here I am having just finished this book for the second time. I loved it just as much as I did the first time. Granted, I barely remembered the story. I remembered a general outline of what was going on with Mara, but I completely forgot about pretty much everything else. Oops!
This book weaves mystery and romance together seamlessly. After all, Mara's life is crazy. She legit thinks she is going crazy and we get to go along for the ride. As Mara is slowly trying to unravel the mystery of what happened the night her best friend died, we also get to meet Noah. Guys, Noah is swoon worthy. He's equal parts caring and cocky. He'd do anything for Mara and doesn't judge her one bit, but he also won't put up wit her crap either.
The mystery surrounding Mara is amazing. I was on my toes the whole time. Needing to read and find out what would happen next. It was Thrilling, creepy, and original. This isn't like any of 500 other YA books I've read.
I can't wait to read on and find out what will happen next. The cliffhanger at the end was just, perfect. Oh my goodness, I don't want to spoil anything but that cliffhanger left me reeling. Like, I hd to peak at the first chapter of the next book because I couldn't handle the suspense. I usually hate cliffhangers, but this one was perfect.
So, yes. Read this book if you haven't the story is just as beautiful as the cover. I think it might be one of my favorite series, as long as the next 2 books go my way! It's a lot of fun and you won't be able to put it down.