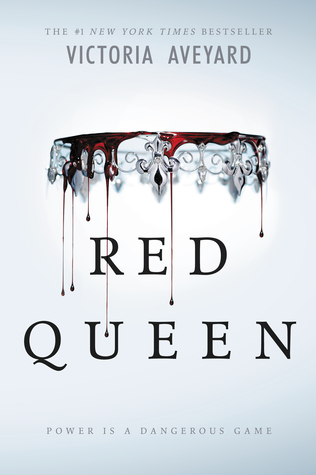 Red Queen
Victoria Aveyard
Series: Read Queen (#1)
Published: February 10, 2015
Rating:
★
★
★
★
Summary:
(Taken from Goodreads)
This is a world divided by blood – red or silver.
The Reds are commoners, ruled by a Silver elite in possession of god-like superpowers. And to Mare Barrow, a seventeen-year-old Red girl from the poverty-stricken Stilts, it seems like nothing will ever change.
That is, until she finds herself working in the Silver Palace. Here, surrounded by the people she hates the most, Mare discovers that, despite her red blood, she possesses a deadly power of her own. One that threatens to destroy the balance of power.
Fearful of Mare's potential, the Silvers hide her in plain view, declaring her a long-lost Silver princess, now engaged to a Silver prince. Despite knowing that one misstep would mean her death, Mare works silently to help the Red Guard, a militant resistance group, and bring down the Silver regime.
But this is a world of betrayal and lies, and Mare has entered a dangerous dance – Reds against Silvers, prince against prince, and Mare against her own heart ...
Links
Goodreads - Amazon - Barnes and Noble
Cover Comments:
I like the simplicity of this cover. It is kind of creepy with the blood, but since the book is centered on the color of Mare's blood it makes sense. I have the hardcover of this book, and I sadly felt like the shiny whiteness got smudges so easily. There are little fingerprint marks all over the cover after I read it.
My Thoughts:
This book wasn't really on my radar much at all. I mean I knew it was popular, but I hadn't looked at it much. But, my wonderful husband picked it out for me as a Christmas gift. He thought it sounded like a book I would like, so I moved it up on my reading list. I'm glad I did too! It was such a great book! I saw a bit of so many other great books, all combined in a way that was still completely original and enjoyable.
The setting is similar to the setting in the Hunger Games. You have the rich silvers who live the high and priveledged life and the poor reds who live only to serve the silvers. Though the world was similar, I thought the storyline was sufficiently unique enough to keep me happy.
Mare enters the Silver world in a freak accident. She has grown up viewing them as having perfect lives and freedom, something Red bloods are never given. However, she learns that being a silver doesn't garauntee a wonderful life for everyone. Despite this, Mare knows that red bloods deserve more than they are given. She soon ends up joining a militia group and begins secretly fighting for their rights.
I loved Mare. I loved all the main characters actually. The guys were all perfect in their own unique way. I hope that in the next book we get to know the boys in the book a bit better. Especially Maven. I need to know what is going on in his brain.
Now, I don't want to leave any spoilers... but let's just say something happend that had my jaw dropping. I didn't see it coming at all. I had no clue the twist that would happen at the end. But, oh my goodness. It left me desperate for the next book. I need it NOW. I want to find out what is going to happen.
I really highly suggest this book. It was a really fast paced and fun read! Worth every second in my opinion!